You can find our sponsoring and exhibition opportunities here.
The EBAM 2023 Organizers gratefully acknowledge the support of the following companies and research institutes grouped by exhibitors and sponsors each sorted in alphabetical order.
Exhibitors
---

ALD Vacuum Technologies GmbH, based near Frankfurt am Main, is one of the world's leading manufacturers of vacuum systems for vacuum metallurgy and heat treatment. ALD supplies plant technology for the thermal and thermochemical treatment of metallic materials in solid and liquid form. The company's expertise lies in its mastery of vacuum process technology and its know-how in designing customized system solutions for these fields.
ALD is the supplier of EBuild®, the world's largest E-PBF system, which can produce parts up to 850 x 850 x 1000 mm. EBuild® complements ALD's inert gas atomisers, which are market leaders in the production of high quality spherical metal powders. The combination of large scale powder production and EBuild® systems establishes E-PBF as an economically viable process on an industrial scale.

Freemelt is a high-tech growth company whose ground-breaking solutions create new opportunities for rapid growth in 3D printing, also known as additive manufacturing. The company's protected technology, which is already installed at major companies and universities, takes 3D printing to a new level and provides new opportunities for printing products in a cost-effective way, to a consistent and high quality. By choosing an open-source solution, the conditions are created for strong growth that enables Freemelt to develop products for universities and manufacturing markets.
With a high energy output, combined with vacuum technology and high process temperatures, provides our technology with advantages such as increased productivity and superior material properties.
We are the only manufacturer to combine open-source and open parameter settings. This combination enables materials development, which is crucial for market development in 3D printing.

There are no shortcuts when it comes to additive. No skipping steps.
But for the ready, there is a way to get there faster.
To accelerate your path from prototype to full production.
To put the people who pioneered full metal additive production to work for you.
At GE Additive, we have the machines, powders, software and knowhow to help you to find a faster path to production.

pro-beam additive GmbH is part of the pro-beam Group, a global leader in the field of electron beam technology. The company enables two additive manufacturing processes for metal components – EBM (Electron Beam Melting) and WEBAM (Wire Electron Beam Additive Manufacturing) – as well as corresponding machines.
EBM is especially suitable for compact as well as highly detailed metal components. With the company's efficient EBM system PB EBM 30S customers can build parts from a batch size of 1 up to serial production in a powder bed. The process is reproducible and ensures high-quality and fast production. At the same time, processes are parallelized so that users benefit from maximized productivity.
WEBAM is suitable for large components made of high-performance metals as well as reactive metals. With the wire-based PB WEBAM 100 customers can manufacture their components in a flexible, quick and material-efficient manner, while multi-material components are possible. The process is reproducible and leads to very good surface qualities.

Sentes-BIR is a manufacturer of metal powders. With VIGA (vacuum induction gas atomization) process, we are able to manufacture powders of:
– Pure Copper and Copper alloys (CuSn, CuCrNiZr, CuCrNiSi, etc)
– Nickel alloys (718, 625, Alloy X, C-276, etc)
– Cobalt alloys (CoCrMo, etc)
Thanks to our novel atomization technology, our powders are highly spherical and free of satellites.
Our metal powder production process has AS/EN 9100, ISO 13485, ITAF 16949 and ISO 9001  quality assurance systems.
Our laboratory is capable of many analyses for powder characterization and soon will be certified with ISO 17025 standard.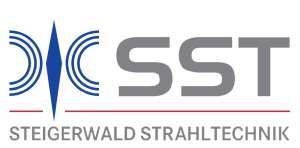 Steigerwald Strahltechnik GmbH is a global acting company and one of the leading developers and manufacturers of electron beam machines. Customers across the globe benefit from our expertise as the pioneers of electron beam utilization in industrial application. Within the Global Beam Technologies Group, the company specializes in the manufacture of all types of Electron Beam machines.
We supply our wire-based Electron Beam Additive Manufacturing system, EBOADD, which can be integrated in nearly every SST Electron Beam machine and extends the functionality of these machines. The EBOADD process allows a layer-by-layer build-up of complex metallic components from the CAD data of the design department. It can be used to realize new geometries or material combinations and gives new possibilities for production of parts. Products can be realized in a flexible and fast way with less additional tools.
We also provide EB Generators for powder-based Electron Beam Additive Manufacturing. The highest precision of the printed part is ensured by a dynamic correction of Focus and Astigmatism over the entire deflection area.

Wayland Additive was founded in 2019 to bring to market a new generation of electron beam additive manufacturing machines.  Wayland's objective is to simplify the electron beam process and machine operation whilst increasing the breadth of process capability thereby increasing the technological and market reach for electron beam AM.  Wayland's hot part process, as opposed to a hot bed process, creates stress free parts with less structural scaffolding, higher productivity and lower total part costs.  With a strong heritage in electron beam systems, charged particle physics and additive manufacturing Wayland has created a new technology, NEUBEAM®, that builds on the best of electron beam's capabilities whilst taking away the constraints.  With machines now in the field and in production Wayland is looking for pioneers and innovators to join them in their AM journey.
Sponsors
---
A little trip into space.
Space travel, which was only a story in science fiction movies, is about to become a reality. Yet, it is still not something that anyone can easily afford. One of the reasons space travel is so expensive is because of the cost of traveling by rocket.
JEOL's electron beam additive manufacturing technology has the potential to drastically reduce the cost of rocket development, manufacturing, and even fuel.
The electron beam metal AM machine "JAM-5200EBM" makes it possible to reduce fuel consumption and increase output, reduce the costs, and shorten development time by high quality and high repeatability modeling, integration of multiple parts, and weight reduction.
Together with JEOL's additive manufacturing technology, innovation is advancing at an unprecedented speed.
Making "a little trip into space" a reality. We are changing the world with electron beams.
Collaborative Research Center 814 – Additive Manufacturing
The CRC 814 – Additive Manufacturing deals with the basic research of additive manufacturing processes. The CRC 814 creates the scientific basics for the production of geometrically complex and highly functionalized multi-material parts, as well as for computer-aided component design and component testing.
In the future, components should be produced from plastics or metal-based materials without specific tooling. Away from rapid prototyping to manufacturing, these technologies are empowered by the CRC 814 to fabricate serial components in the desired quality. Since 2011, more than 35 scientists are working on this major interdisciplinary project at the FAU. The third funding period started in July 2019.
Collaborative Research Center / Transregio 103 – Superalloy Single Crystals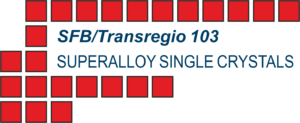 The Collaborative Research Centre SFB/Transregio 103 "From atoms to turbine blades – a scientific basis for a new generation of single crystal superalloys" is funded by the Deutsche Forschungsgemeinschaft (DFG). The partner universities who collaborate in SFB/Transregio 103 are the Ruhr-Universität Bochum (RUB) and the Friedrich-Alexander-Universität Erlangen-Nürnberg (FAU). Three external projects from the Max-Planck-Institut für Eisenforschung (MPIE), the Forschungszentrum Jülich (FZ Jülich) and from the German Aerospace Center (DLR) strengthen the activity.
In SFB/TR 103, different disciplines join forces: processing and manufacturing (melting and casting, additive manufacturing, heat treatment, HIPing), materials testing (elastic constants, creep, high temperature fatigue), advanced materials characterization (SEM, TEM and AP) and scale bridging materials modelling (first principle calculations, phase field modelling, discrete dislocation modelling, finite element analysis).