More than 150 participants from 21 different countries all over the world attended EBAM 2018, the 2nd International Conference on Electron Beam Additive Manufacturing, which was held from April 11 to 13, 2018 in the Marmorsaal at the Nürnberger Akademie. The conference brought together leading experts, and senior and junior scientists from research and industry specialized in the field of electron beam-based additive manufacturing.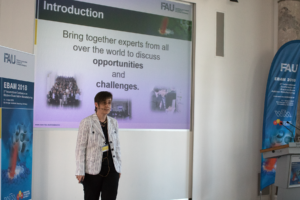 The idea for the conference emerged in 2015 as a result of more than ten years of profound experience with selective electron beam melting by Prof. Carolin Körner. The EBAM conference series, which started in 2016, was the first conference of its kind in the world because of its distinct scientific focus on electron beam-based technologies. The success of this idea is reflected by the number of attendees, which was limited due to capacity restrictions at the event location.
The specialization on electron beam-based additive manufacturing technologies encouraged excellent presentations and high-quality scientific discussions. During nine sessions, the interdisciplinary exchange of views was encouraged by premium quality keynote presentations. A wide range of high-performance materials was focused: titanium alloys, titanium aluminides, iron aluminides or nickel-base superalloys. The presentations covered the whole process cycle from powder aspects to post-processing of the manufactured components. As a highlight, in-situ process monitoring using electron optics was presented, which opens the potential for this technology to detect and heal part defects during manufacturing. All sessions were enriched by presentations on numerical simulations promoting a better understanding of the physical effects during the process.
The scientific interchange was encouraged by a high quality poster session. During the session each participant had the opportunity to vote for the newly introduced "Best Poster Awards". The winners of the poster awards are Ms. Karimi Neghlani (University West, Sweden), Ms Jurisch (Fraunhofer IFAM, Germany) and Dr. Ljungblad (Freemelt AB, Sweden). The conference was enriched by enjoyable social events: a historical tram ride through Nuremberg followed by a Franconian dinner.
The organizers received much positive feedback and many participants are looking forward to EBAM 2020, which has to find a new location in the near vicinity of Nuremberg's city center to increase the possible number of participants.